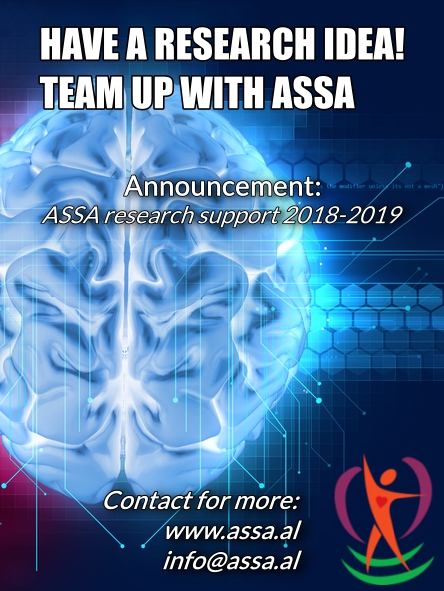 HAVE A RESEARCH IDEA! TEAM UP WITH ASSA!
Announcement
ASSA research support 2018-2019
For researchers who wanted to expand their practical knowledge into research area: Health and Sports Science field. .
A. Proposing research from members of the ASSA.
B. ASSA support includes:
Project design and continuing training
ASSA lab support (measurement equipment)
ASSA mentoring/ suprervising:
- methodology
- measurement
- data analysis
- writing manuscript
publishing:
- EJHSS journal – European Journal of Health and Sport Sciences
- ICESH 2019 – International Conference on Exercise, Sport and Health
Requirements:
Bachelor degree
Member of ASSA. (if not during the venue will be registration for new members – fee)
Annual Meeting with ASSA members 21 january 2018 12:00
Please
Click Here
te become an ASSA Member
ASSA office– Address:
Stteet 3 Vellezerit Kondi Tirana, Albania
For more information Do not hesitate to contact to email address
info@assa.al
ASSA LAB 2017- Anthopometric Measurements
Saturday 30 September 2017
Today ASSA launched the newest project in collaboration with the Albanian Federation of Bodybuilding & Fitness, focusing on collecting data of athletes competing in the 2017 National Championship.

It is a new enterprise for ASSA which sets the foundation for Albanian Sports Science.

ASSA has established a dedicated group of young researchers named ASSA LAB Group that will focus on further expanding work with other sports bodies to create a scientific approach to collecting and analyzing the data of many athletes of various sports,

to carry out their assessment through scientific methods and this is a starting point for more scientific research in the field of sport.
International Conference on Exercise, Sport & Health (ICESH 2017)
First successfully international conference organized by ASSA on 12-13 April.
The participants were from different countries such as Turkey, Kosovo, Bulgaria, Italy, FYROM and Albania.
Below you will see a video from the Conference.
How To Write a Scientific Paper From Conception To Publication
Seminar Report:
Firstly, on behalf of ASSA we want to give special thanks to
Prof. Dr. Ing. Habib Hamam
, President (Rector) of CIT for opening the doors for collaboration and  support to development of scientific research issues.
The weekend of March 10-11, 2017 Albanian Sports Science Association (ASSA) in collaboration with the Canadian Institute of Technology (CIT) organized at the grounds of CIT the seminar with the topic "How to write a scientific paper from conception all the way to publication".
The invited guest lecturers in this important seminar were:  
Prof. Asc. Dr. Artur JAUPAJ (CIT)
Prof.Asc. Dr. Vaso Qano (CIT)
Prof. Asc .Dr. Juel Jarani (UST)
Doc. Anduela Lile (UST)
Topics covered:
Concept and development of a research paper

Statistical analysis  and selection research type

Format IMRAD and development of the paper

The seminar was open with  the word of the President of ASSA Mr. Florian Muca who greeted the guests and participants stating the importance of the seminar being very useful for students and researchers. He also highlighted the beginning of valued partnership between the CIT and ASSA  and agreed to strengthen the collaboration with mutual interests more in the future.  

The purpose of the seminar 'How to write a scientific paper from conception all the way to publication' was to introduce to new students and  researchers to help develop a research study, collect and analyze the data based on the standard format of research.
As for the first time on this subject, the seminar resulted very successful and beneficial for participants, however, next time we seek to develop  similar seminars of such matter adding more days and for deeper understanding organizing workshops, with the mindset 'hands on practice'.  Therefore, organizers will review the feedback and looking forward to more successful researchers.
At the end of the seminar Mr.Muca thanked the lecturers and  participants, and also used the opportunity to extend invitation for them to attend at the International Conference on Exercise, Sports and Health (ICESH 2017) organised by ASSA in partnership with Tirana International School, to be held on April 12-13, 2017.
Sports Trauma
Today Nov 20, 2016 - ASSA organized near the premises of Smart Sport Center the seminar Sports Trauma. The first speech of seminar was held by the President of ASSA, Mr. Florian Muca. He greeted the participants and welcomed the guest lecture Mr. Perparim Elezaj, Doctor of Osteopathy (DO), Physiotherapist and Specialist of Sport Science to present the topic. Participants in the seminar were mainly sport coaches and athletes. The focus of this seminar was to introduce and increase awareness to coaches on sports injuries, classification and symptoms, methods of treatment and most important prevention.  This seminars approach was interactive and structured in both, theoretical and practical aspect.  Participants addressed many questions during the seminar, and also had the opportunity to apply different immobilization methods on joints.  At the end Mr. Florian Muca, expressed his gratitude for the lecturer Mr. Perparim Elezaj (DO) for excellent and successful presentation, both theoretically and practically. Mr. Florian Muca, also added that in the following month, Dec of 2016 and  year of 2017, BSHRC had planned and is working to organize the following activities:  2016,     December - Physical Conditioning in Team Sports  2017,    February- Seminar on Physical Education  April      - International Conference on Exercise, Sports and Health  September – Active Participation on Children
Development of Strength Training for Sport Specific
On December 4, in the Sports University of Tirana, the Albanian Sports and Science Association (ASSA) organized the seminar entitled "Development of strength training for sport specific".
Seminar was declared opened when Mr. Florian Muca, the president of ASSA welcomed the participants and introduced the guest lecturer Marcello Cipriani, Doctor of Sciences, researcher and author of a series of books, sports themed.
The participants were from different fields of sport such as: coaches, students and athletes from different sports.
The aim of this seminar was focused on using weights for developing strength, using weightlifting according to sport specific needs, and in certain exercises, changing the proper lifting movement according to the specific strength in individual and team sports (basketball, rugby etc.).
The seminar was interactive and was separated into two parts, theory and practice.
During the seminar, the participants showed wide interest and they asked many questions related to the use of force, as well as managed to practice some of the exercises introduced.
At the end of the seminar, Mr.Florian Muca thanked the lecturer, Marcello Cipriani, for the successful presentation in theory and practice.
Google Apps for Education
On December 27, 2014 organized at the grounds of the KIDS's Sports Center "SMART" the seminar with the focus theme 'Google Apps for Education'.
The invited guest Mr. Besnik ZYLKA is certified trainer by Google.
The seminar was open with the word of the President of BSHRC Mr. Florian Muca greeting the guests and participants of the seminar. He also went over the activities planned for the 2015.
The purpose of the topic 'Google Apps for Education' is to help new educators, trainers and researchers to use technology as an efficient tool to plan, coordinate, collect data, deliver information in real time, and search the etc
A few words about the workshop:
- Google Apps for Education is a digital platform that enables collaboration between participants in real-time from every corner of the world, enough to have an Internet connection and a browser online.
- Google Apps for Education is a set of tools to use an endless source of information that is the internet.

The tools that were used in this workshop:
Google Docs – is the online version of a word-editor which enables online collaboration of up to 50 users simultaneously and provides some tools more efficient to do the research work.
Google Slides - is the online version of an application used for presentations, also provides real-time online collaboration to 50 users in a single document.
Google Forms - is a more efficient tool to collect data from many users and facilitates data-analytics that enable more advanced analysis of the responses of the participants.
Google Search - is the backbone of all other platforms which are based on search. Here you will see how to use the most powerful engine to search for the required quality material online.
Google Scholar - is the search engine for education and for research online. Here you will learn how to ask for documents that are public on the web and how to use them in the bibliography.

Vision & Mission
To perform research activities increasing the quality of sports and promoting physical activity in all age groups. Improving major health outcomes through physical activity, affecting populations across Albania.
Our Values
Being creative and open to new ideas and opportunities in scientific research
The continuous healthy development of our people around Albania
Willing to create values and accept responsibility for our research activities.

Our address
ASSA
Street Isa Boletini,Bldg. Aurora Konstruksion,
Shk. 1, Ap. 9, Postal Code: 1001.
Tirana, Albania.